Wild Witchery Policies
Shipping
For all ready-made products, your item(s) will ship within 5 business days, excluding holidays. For all made-to-order products, your items will ship within 10 business days, excluding holidays. Many times, item(s) will ship sooner.
Refunds
Wild Witchery does not accept refunds or exchanges at this time.
Canceling/Rescheduling/Transfering Permanent Bracelet Appointments
The $20 booking fee you pay at the time of booking your appointment is non-refundable and non-transferable. It is for the day/time you booked only.
Due to the fact that when you book an appointment it removes that day/time availability for others to book we do not offer rescheduling or transferring of appointments.
If you are unable to make your scheduled appointment time you will forfeit your deposit and be required to make a new appointment with a new deposit if you wish to reschedule.
*If there is severe weather and the event is canceled we can refund/reschedule your appointment.
Classes and Workshops
We do not offer refunds if you choose to cancel your spot in class. We can allow for transferring to another class if you need to cancel but you must contact us about doing so 14 days or more before the class you are scheduled to take.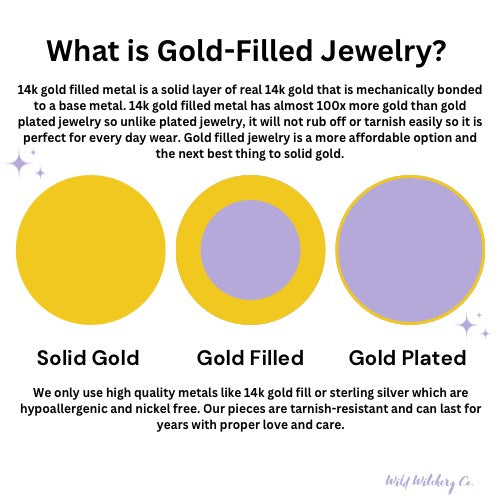 What materials do you use?
Everything that looks gold is high quality 14k gold-filled we would never sell gold plated jewelry. We also use 14k rose gold filled metal for the rosey hue jewelry you see. Anything that looks silver is always sterling silver. And all electroformed jewelry is copper.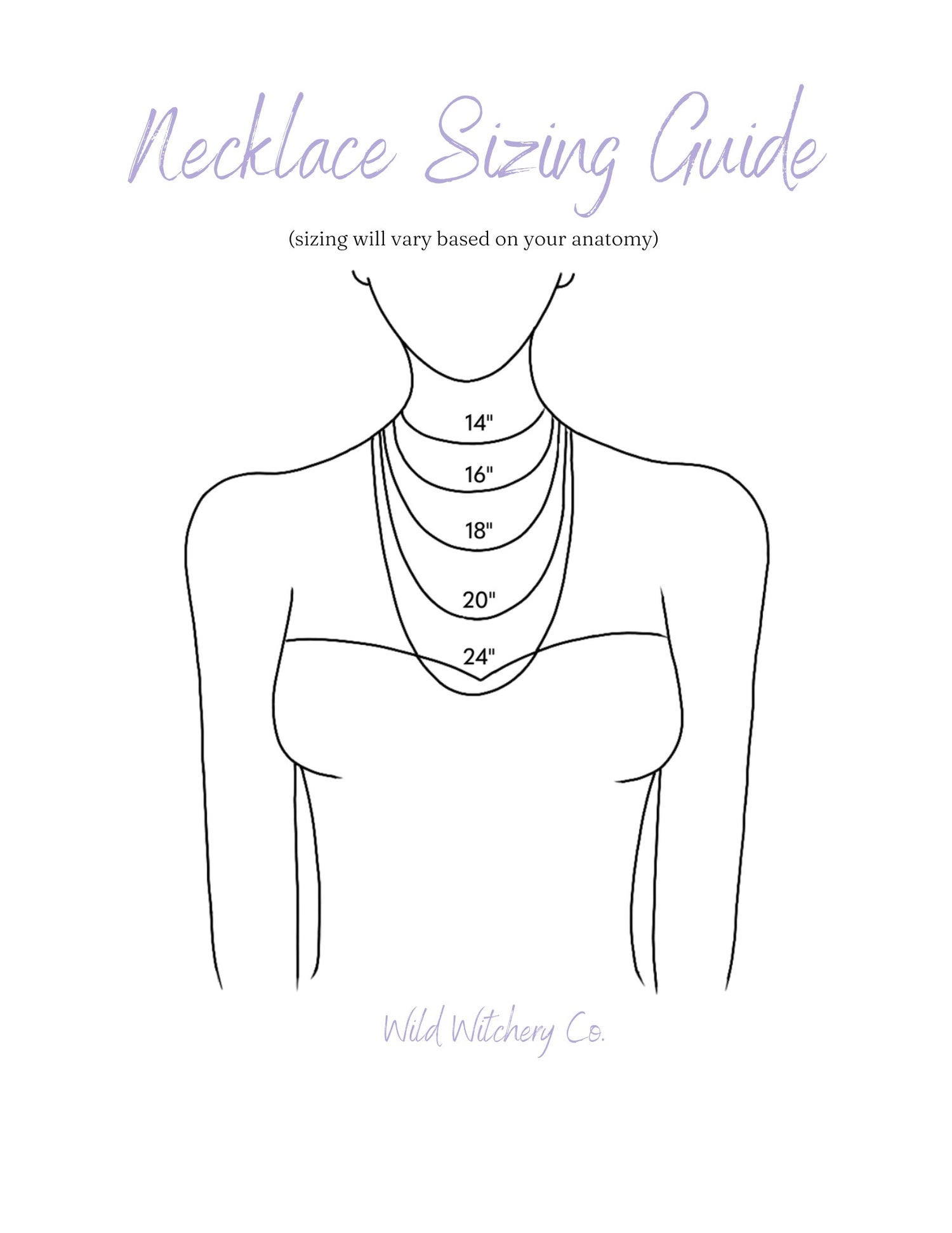 How Sizing Works!
Wild Witchery is a size inclusive brand!
We offer rings in all full & half sizes. If you don't see your size listed, send me an email & I will make it in your size for no additional cost. 
Our necklaces range from 14"-24", some necklaces are only available in one size and others you can pick the length. Send me an email if you have a size request and most of the time we can accommodate for a small fee.
Figuring out your ring size- You can purchase a reusable ring sizer tool here! 
Necklace sizing- use a measuring tape to see how long you'd like your necklace to be. We carry necklaces in 14, 16, 18, 20, 22 & 24 inch lengths. 
Bracelet/Anklet Sizing- Use a measuring tape to measure the length you'd like your pieces to be. We carry bracelets in full and half sizes (5in.-8.5in.) We also carry bracelets with extenders so you can adjust them to your exact size. We carry anklets in full and half sizes (8in-11in) if you'd like an extender on your anklet we sell those too!
Contact Us
Sending us an email is a great way to get a quick reply. Our email is wildwitcheryco@gmail.com. You many also reach us via text 612-548-4994 although this isn't the quickest option.
Visit our store, we operate out of Simply Creative: 1631 Washington St. NE Minneapolis, MN 55413